Lifelinger London Meeting 2004
Introduction to Lifelinger (Cervical Cancer Imaging) Project
At Trident Business Centre, 89 Bickersteth Road, Tooting, London. SW17 9SH, UK
Tuesday 21st September 2004, 2.00 pm., Free
Cancer and health professionals welcomed.
Organised by Aray . Tel: 07903 967 355 Email: arayltd@btinternet.com web: Home
To help our planning please indicate your intention to attend by emailing arayltd@btinternet.com.
LIFELINGER Objectives
Cervical cancer is the third most common type of cancer in women. The LIFELINGER project's (http://www.lifelinger.net/menu/home.htm) objectives are the development, testing, validation and exploitation and early-commercialisation of a new cervix cancer early diagnosis system based on the integration of optical imaging, image analysis and statistical analysis.
This meeting introduces the LIFELINGER project and presents an opportunity to meet with many of the LIFELINGER project team.
Intended audience: Health Professionals Gynaecologists, Department of health / politicians, Students, Cancer workers / organisations, Press, Embassies
Draft Lifelinger Project Introduction Programme

Tuesday 21st September 2004 2-5 pm
Trident Business Centre, 89 Bickersteth Road, Tooting, London SW17 9SH, UK
Topic
Presenter / Moderator
Duration
Welcome
Aray / MP?
5 mins
Introduction to Lifelinger
ISQ
30 mins
Lifelinger Video
Duvideo
15 mins
Lifelinger Clinical
Sintef / Dr Daniel
30 mins
Lifelinger Hardware
ISQ
15 mins
Lifelinger Software
IAITI
45 mins
Discussion
Aray
30 mins
Comments and questions are welcomed from the audience throughout as well as contributions during the discussion.

Light Refreshments will be served.
==============================================================
Directions
The Lifelinger meeting is being held at Trident Business Centre, 89 Bickersteth Road, Tooting, London SW17 9SH This is in Wandsworth, South West London, about 6 miles out from the Centre of London.
For further information visit www.tridentcentre.co.uk
For info on the area visit: www.tootinglife.com
TRAVEL DIRECTIONS
BY TUBE – TOOTING BROADWAY STATION: Northern Line (Zone 3)
BY RAIL – TOOTING STATION – THAMESLINK:
(Services to Wimbledon, Blackfriars, Kings Cross & Luton)
BY BUS – ROUTE NUMBERS: 44; 57; 77; 127; 133; 219; 264; 270; 280; 355;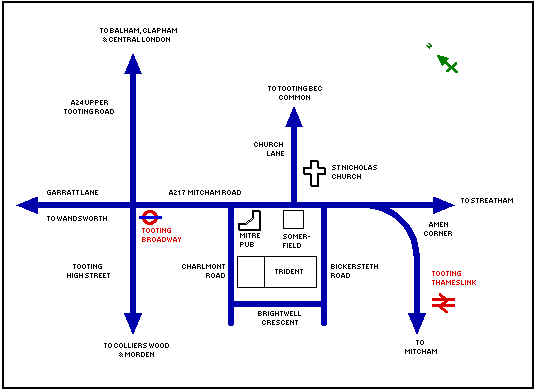 ==============================================================
I Name :……………………………………………………
Organisation:……………………………………………………
Email :……………………………………………………
Intend to attend the Introduction to Lifelinger (Cervical Cancer Imaging) Project meeting 2pm Tuesday 21st September 2004 at Trident Business Centre.
Please keep informed about Lifelinger [ ].
email: arayltd@btinternet.com